The information age is upon us, and search engines are readily available to address almost any question we have, or any problem we need to solve. The number of queries on search engines day to day is almost unfathomable at…
6,586,013,574 searches a day worldwide
Currently the market share for search engines heavily favors Google to no surprise, cornering 77% of the market. Google's market share is continuing to increase as last year the tech giant had closer to 67%, stealing 10% from its competitors in just twelve short months.
With all of this data it goes without saying how important it is for your business to show up in Google. Depending on what space you're in, Google's determination of your website can dictate the survival of your livelihood.
With advertising costs continuing to rise, and the market more saturated than ever, it can be extremely difficult to gain visibility on the Internet for your business. For this reason, here are some unique, actionable, search engine optimization tactics that will help boost your traffic, but are less conventional than classic SEO strategies. 
1. SEO Optimized Landing Pages
---
Landing pages designed specifically for lead generation and sales will have a direct effect on your bottom line.
The more landing pages you build, the more pathways there are toward your website.
Sadly, there are not many companies who specialize in the B2B space that understand the importance of landing pages for capturing new users. Often people assume the homepage is the most important, but a solid landing page helps initiate and build a stronger relationship with the user.
Here's an example.
Check out Landbot, who puts their own product front and center on their chat oriented landing pages. Here, visitors are greeted by a friendly message, complete with images, emojis, and gifs – in a complete conversational format.
Now the question is whether these landing pages actually provide SEO value.
Check out these screenshots above from Ahrefs.com
The landing page has thousands of backlinks and decent engagement over the four major social media platforms. This landing page is clearly doing a good job of not only driving traffic, but also converting its visitors into usable leads.
Check out another well known landing page from Airbnb. To help convert its visitors, it offers a revenue calculator of how much you could literally earn converting your house into an Airbnb.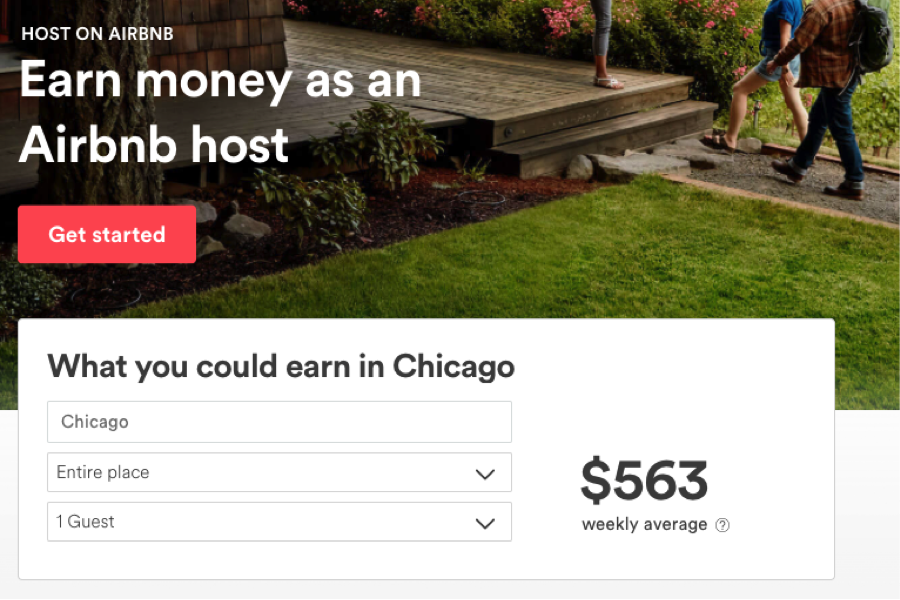 Here are some landing page best practices to keep in mind.
Write logically – Use keywords naturally throughout your content and avoid any possibility of getting penalized for keyword stuffing. Use persuasive text as SEO Experts will often tell you that the "number 1 goal in your writing is to get people to read the next sentence."
Do Your Keyword Research – Find a long-tail keyword related to your products and services. There are a few great keyword tools you can use for this. Personally I like a tool called Twinword that allows for better filtering/customization than more obvious options like the Google Keyword Planner.
Abide By Common SEO Checklists – There are many technical and on page factors that will effect SEO. Whether it be a single landing page or your entire website, you want to be sure you're adhering to the full criteria and expectations that a variety of search engines will use to evaluate your website.
Boost your marketing strategy with SEO.
Get a FREE Growth Strategy Session with a OneIMS digital strategist:
2. Infographics
---
If you were to ask someone a decade ago what an infographic was, they would have looked pretty clueless.
In the past few years however, searches for infographics have increased substantially.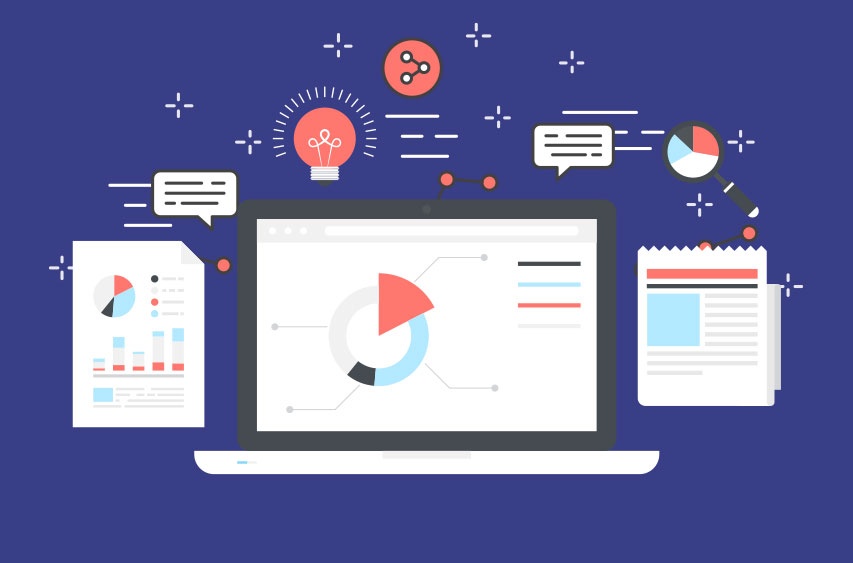 Before we dig further, lets briefly define this concept. In a nutshell Infographics are images with graphic text that help explain information. Often these images will present figures or facts that help connect with those who are visual learners.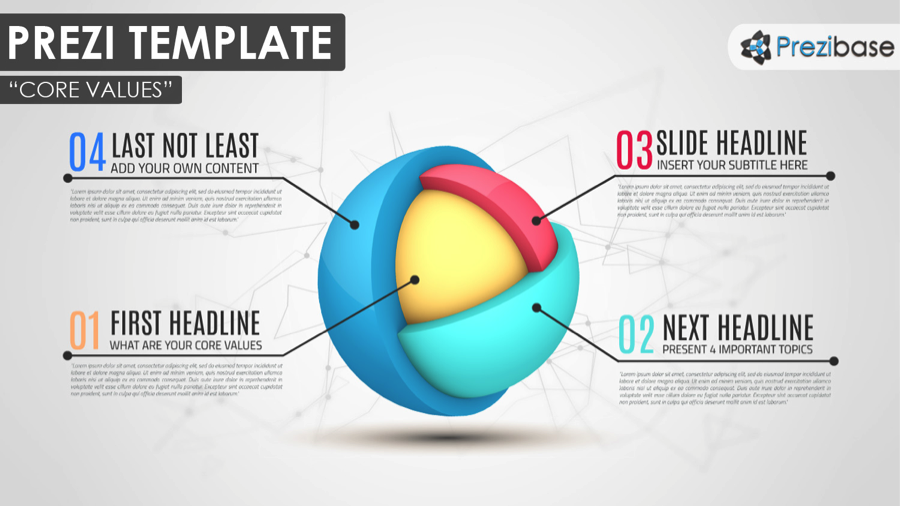 Image Credit: https://prezibase.com/infographic-diagram-prezi-templates/
There's a lot of evidence out there that says creating infographics will lead to pretty impressive results. Kissmetrics was able to generate 2.5 millions visitors and 41 thousand backlinks from infographics.
Why do consumers prefer infographics?
90% of information transmitted to the human brain is visual, and those visuals are actually processed 60,000 times faster than text. Images are the easiest thing for your brain to remember and are essential for higher learning. Through human nature, what you see has a profound effect on what you feel and what you choose to encounter.
Lets look at a few different uses for organizing your data into a visual format.
Surveys – Results from survey data are often tossed into lengthy and convoluted white papers that confuse the reader. These numbers and statistics can be overwhelming to people, therefore losing their significance. When funneled into an infographic it can be much easier to absorb meaning from data and reach a broader audience.
Comparisons – These can be confusing to express in words, which can be counterintuitive when meant to provide clarity to your argument. Comparisons through infographics can help to organize similarities and differences that support the information you are presenting.
Breaking down objects – In addition to simplifying complex information, infographics can also reveal the inner workings of complicated products. Creative designers can take apart electronics or innovative machines and more easily explain their core elements.
Image Credit: https://www.behance.net/gallery/8067551/Imaginary-Factory
To sum up, infographics can present rich and insightful information in a visually appealing format without the intimidation factor. Keep in mind that a good design isn't everything. There needs to be quality information so people can take in the message you are putting forth.
3. Embrace LSI (Latent Semantic Indexing)
---
In essence, LSI words are synonyms, and other related phrases that surround your target keywords.
There are many LSI keyword tools out there, but you can even use the good old fashion Thesaurus to help you with this. With just a little brainstorming, it is not too difficult to come up with related words to the main search terms for your products and services.
The most common example would be related to the word apple in your content. Google needs to figure out whether you are referring to the technology company in California, or the fruit.
Google's understanding of contextual search has grown immensely with the use of Artificial intelligence in its major Rank Brain update.
Therefore in this latest example, if you mention "Macs, iPhones, Tim Cook, etc." the meaning of the search "Apple" becomes quite clear to Google.
Image Credit: https://www.slideshare.net
Now lets use a different example to really see LSI in action. If you search, "What to watch on Netflix" one of the early results on the SERP is a listing for Uproxx.com.
Sure enough if you search, "Best Shows On Netflix," the same post has a very similar ranking.
This search term is a perfect example of how LSI and contextual search is continuing to evolve as apart of SEO today. Though the title and content is optimized for "best shows on Netflix," Google knows that people looking for "what to watch" are probably looking for the best Netflix shows. The days of single keyword pages in SEO are over, so it's up to you to dive deeper to see how effective context can be in search.
4. Use A Deep Rooted Internal Link Strategy
---
A major pitfall for beginner link builders is spending too much time focusing on pointing links to a site's homepage.
Don't get me wrong, the home page is extremely important and often considered the welcome mat to your website.
Link building to the home page may still build authority, but your portfolio of backlinks will begin to look unnatural and lopsided. This is where Deep Linking comes into play, the act of acquiring links to inner pages which may be important but don't necessarily pull in the bulk of your traffic.
Below are a couple of ways that can help naturally build deep links.
New Mentions
These are one of the easiest ways to build links. It involves utilizing a piece of content that lives on the Internet which has already mentioned you (brand, URL, site etc.) on a page that was created by a third party source.
The idea of this is to reach out to the author and ask for a link. Let's say you are a CEO of an event production company. You held an event for the movie premiere of Titanic and were interviewed on a popular magazine regarding the production.
Once the interview is published online, you could contact their Webmaster and ask for a link. More often then not, if your website has authority, they'll give you a link with the Do Follow tag.
Number Of Links
One of the most frequently asked questions by SEO experts today is..
How many links do I include in my content?
There is unfortunately no correct answer to this question. When poking around the Internet you'll find answers like "use a normal amount" or you should focus on "quality not quantity".
In the end, you don't need a bunch of links throughout your content. Google's instructions are just like the rest, "keep the links on a given page to a reasonable number."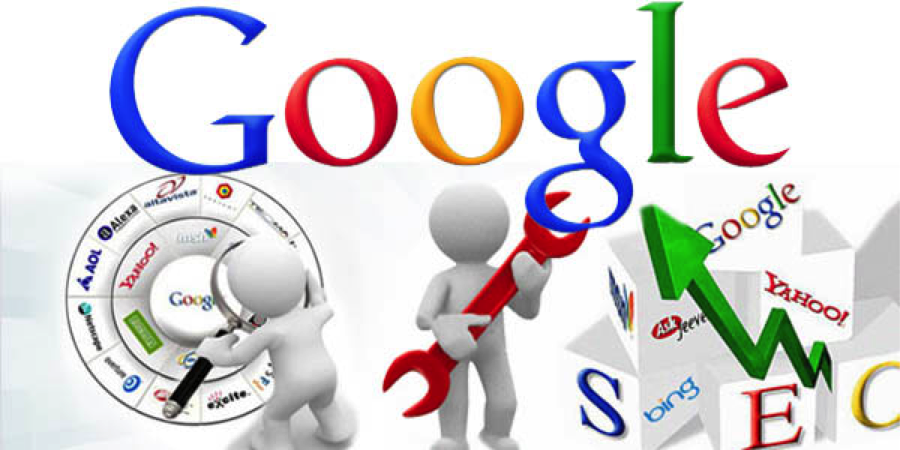 Image Credit: https://www.searchengineoptimizing.co/seo-tools.html
As for quantity? It isn't feasible to beat out sites using 10's of thousands of links, but perhaps your links will be more authoritative and make more contextual sense.
This is yet another tactic that requires minimal effort, but can help you outrank your competition.
5. Unlock Hard To Find Opportunities with Structured Data
---
Implementing the right structured data using schema.org can be challenging.
For those who aren't aware, schema.org is a community of HTML tags that tell search engines more information about what is displayed on your browser.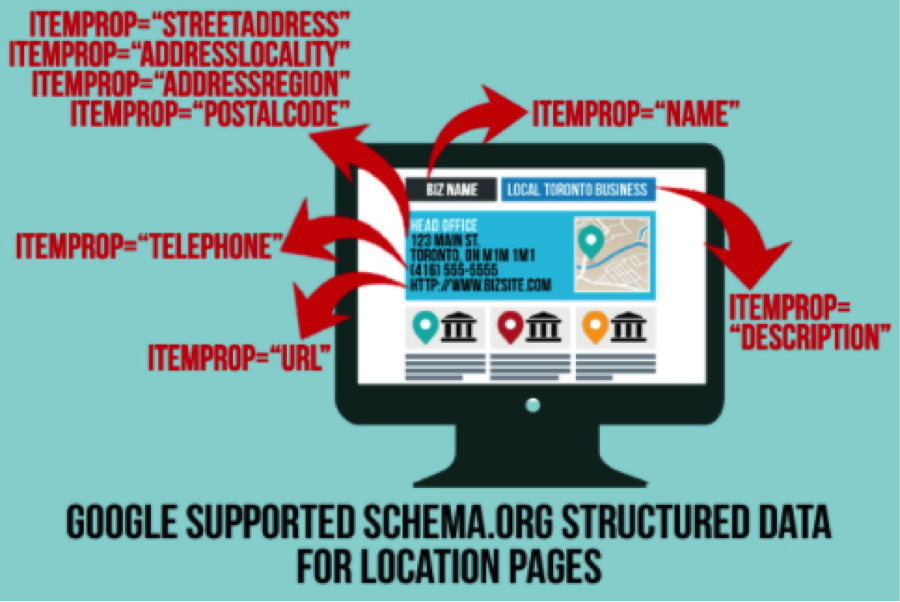 Image Credit: https://blog.fslocal.com/google-supported-schema-structured-data-markup-guide-for-local-businesses/
In order to better locate certain popular data markups Google is specifically using, one of the most commonly used sources out there is Google's Structured Data Feature Guide.
Why Use Schema?
It is widely agreed that anyway you can better help search engines understand your content will be beneficial from an SEO standpoint. Though it often will not directly correlate to an increase in keyword rankings, it can lead to a more powerful website.
Should I Use Schema?
This is a difficult question to answer. Lets weigh out some pros and cons:
Pros
Rich Snippet


Not So Rich Snippet

With the growing importance of voice search through digital assistants, search engines need to know exactly who you are and what you do to respond with your business as a search result. Voice queries depend on implied context, and schema provides background to an otherwise unknown page of text.
Cons
While the advantages of schema may be quite obvious, it can be very challenging to navigate. Implementation can be much easier said than done, as every tool/source available has its limitations. Alexis Sanders from Merkle, wrote a great step by step article on breaking through the ambiguity and confusion that is the schema.org interface.
When implemented properly Schema markup will help search engines better understand your pages. If search engines are able to understand your information clearly it is then passed on to the searcher in the Snippet. This leads to a higher click through, better engagement, and better overall rankings for your business.
6. Use Google Ads Data to optimize for SEO
---
An amazing way to give yourself a leg up with your competition is to look for ideas in Google Ads text ads.
Google Ads is built to target your competitor's keywords and if you can write content that ranks organically for those same keywords, you will establish yourself as a presence in search.
Despite Google's effort to integrate ads into organic search results, people are still hesitant to click on ads. Studies show that 71% of searches result in a page 1 organic click, and 6% lead to a page 2 or 3 organic click. This results in just 13% of all traffic going to paid ads or a different search.
Image Credit: https://www.saibotmedia.com/marketing-services/paid-advertising/
Building yourself up high in organic search demonstrates an element of trust and credibility to those who don't click on ads.
Lets take one of the most expensive industries in Ads, personal injury lawyers, and analyze some competitor ads.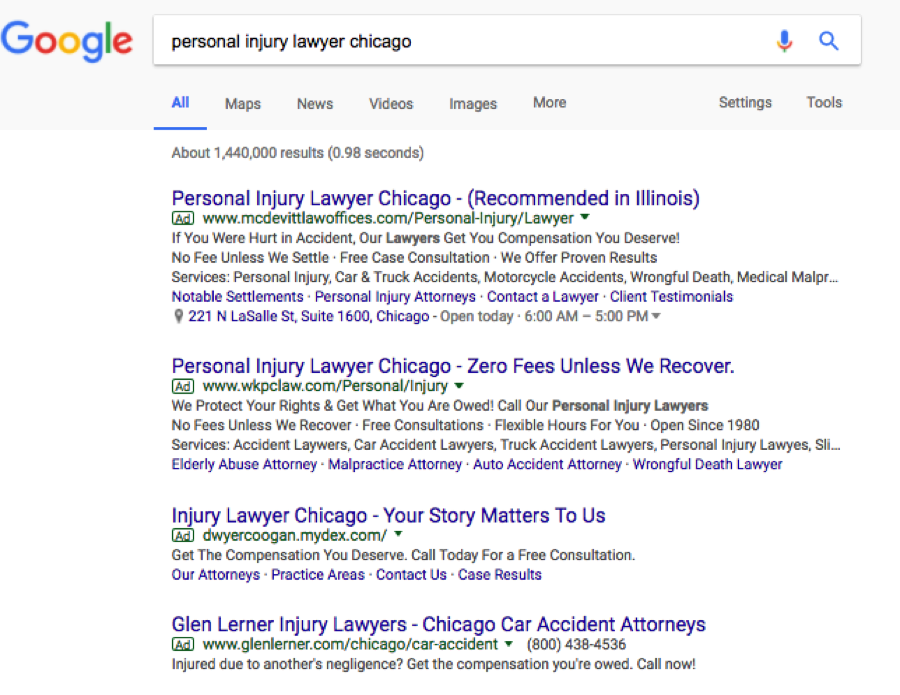 Just from taking a quick look at the four ads above, you can at the very least get a couple options for topic ideas.
Here are a few opportunities:
What type of compensation can you receive from car, truck, and motorcycle accidents?

How do personal injury lawyers exercise my rights?

What are the steps to go about suing for a car accident in Chicago?
With a little bit of work and patience, you can create very popular posts based off the keywords your competitors are targeting. The only difference is your pages drive traffic for free whereas you competitors are paying $50+ per click.
Improve your SEO strategy with our experts.
Get a FREE Growth Strategy Session today:
7. Utilizing Search Data in Google Search Console
---
Google Search Console is a group of tools to help understand your website's performance as it lives in the Google Search Index.
Here, you can get information related to the search traffic hitting your website, technical status updates, crawl data, and additional educational resources.
Let's focus on the search traffic feature because it is extremely underutilized as an instrument in the everyday SEO tool belt.
Once you hit the main dashboard page, click on Search Traffic → Search Analytics on the left menu. Here you will find a dropdown of queries that caused your website to appear in Google's search results (time frame by default is "Last 28 Days").
Below you'll see data for a warehousing company based out of Chicago.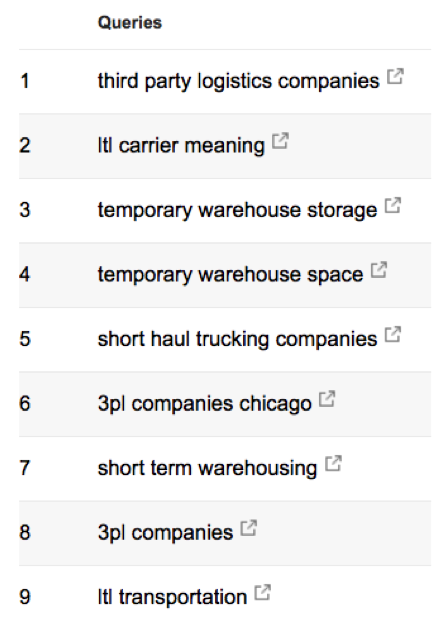 ­­Viewing this kind of information can tell you a lot about what keywords you're ranking well for, and whether or not they align with your marketing strategy.
It also gives you important metrics including clicks, impressions, CTR, and even organic position (although it varies across platforms how accurate the "position" section is).

This information alone provides you with some key takeaways about how you can tweak your SEO strategy. Query number 4, warehousing services, might be a very important bottom of funnel keyword for this business.
It is receiving close to 1,000 impressions, which isn't bad for a small company, however these views only led to two clicks (Leading to a CTR of 0.22%).
This says that the search result isn't compelling enough, and by tweaking the page's meta data, working on a more captivating CTA, or creating a rich snippet can help boost the CTR for this search term.
8. Think About Your Unique Organic Quality Score
---
Though there is no evidence of its existence, Google most likely assigns a quality score to organic search results.
Most SEO experts believe this score is based off of a variety of engagement metrics, similar to the quality score in Google Ads.
The key question here is, "How does someone optimize for this?" Most marketing folks understand classic quality score metrics but what if Google went deeper with signals like pogo stick rate, deep click rate, and possible others we aren't even aware of.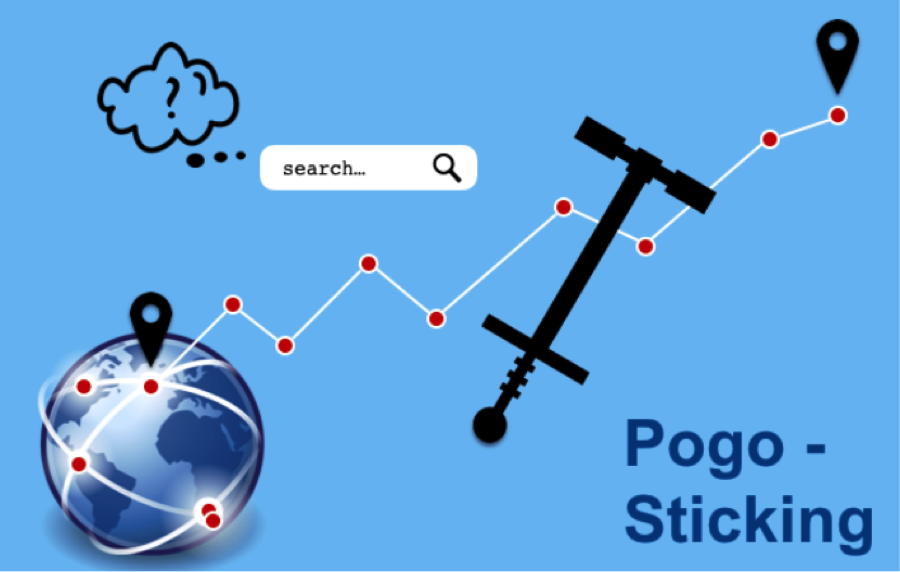 Image Credit: https://www.w3trainingschool.com/blog/difference-pogo-sticking-bounce-rate/
Lets look at a couple of ways to boost your organic quality score:
Push High Performing Content – Continue to update, expand, and build links to your site's money pages. Boost these pages by examining which on page metrics could use some improvement. If your usability is poor, improve page navigation or speed. If your content is lacking, do whatever you can to keep searchers reading and engaged. It might seem obvious, but the key here is solving the problem that users went on Google to solve.
Consolidate Unnecessary Pages – Remove any pages that don't serve a clear purpose. Take those unnecessary pages, add the content somewhere else where it would make sense, and then redirect that URL to its most appropriate page.
If users don't care to see a certain page on your website, then Google doesn't need to see it. If you don't want to remove the page all together then go ahead and take the no index option, either through the meta robots tag or the robots.txt file.
9. Don't Forget About Image Search
---
Currently around 30% of all searches are for images and a little over 10% of web results show image packs in Google.
It is well known that images are a major part of consumer research in certain markets, yet is it worth your time doing image search SEO? Let's look at a couple elements of value when it comes to image search.
Services With a Visual Component – If you're a home/commercial remodeler, owner in the hospitality space, or sell a visually oriented product, images might be important to your customer base. You may see searches that lead people to make a decision strictly based on the images they see.
Backlink Opportunities – If your content contains images/graphs/infographics etc.. then other people may want to use those assets. In this case you'll often get the link when somebody uses an image that is yours.
The best part about image search is you can rank for images that are not originally your own. When it comes to web results, duplicate content is viewed as a problem, but this is not the case with image search.
Now the question is.. what exactly will push your images to rank?
In this case Google is mainly concerned about context and relevance in an effort to meet the user's needs. Google won't care as much about spamming or manipulation of results so we can resort to more old school SEO techniques.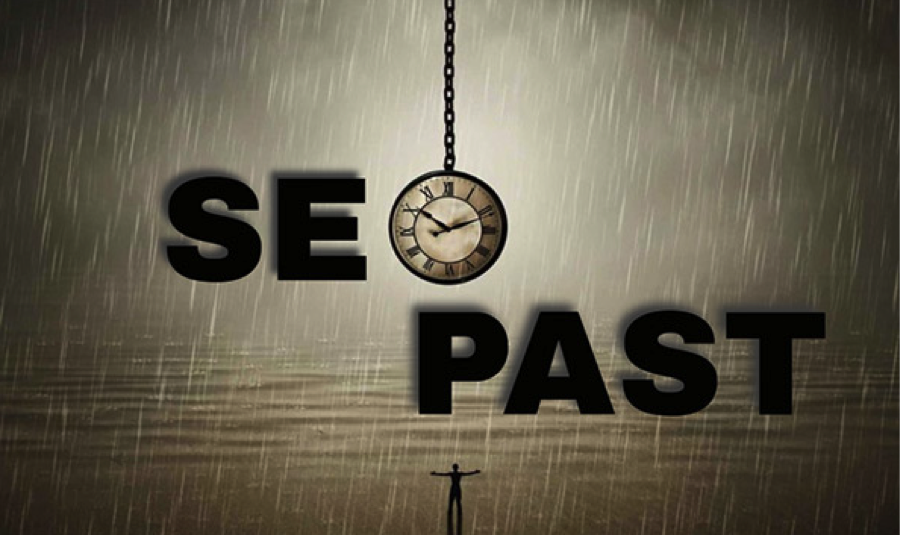 Here are a few main ranking signals for images:
The image file name
The image alt text
Background text content – In order to understand context, Google looks at the text above and below the image.
Page url and  title
Engagement – popularity, clicks, views, etc.
There is no guarantee that you will get actual referral traffic from image search, but none of the SEO activities required are very time consuming, and might be worth a shot.
You can use crawler software like Screaming Frog or the site audit function from Clickx to determine additional opportunities for image optimization.
10. It's Not Always About New Content
---
Every so often there are things that need updating, which is just the reality in a changing world. Whether it is your wardrobe, electronics, or  alternative food choices, things get older faster than you can blink.
Your marketing content is similar in that a high traffic page on your website can quickly fall to the wayside if not updated periodically.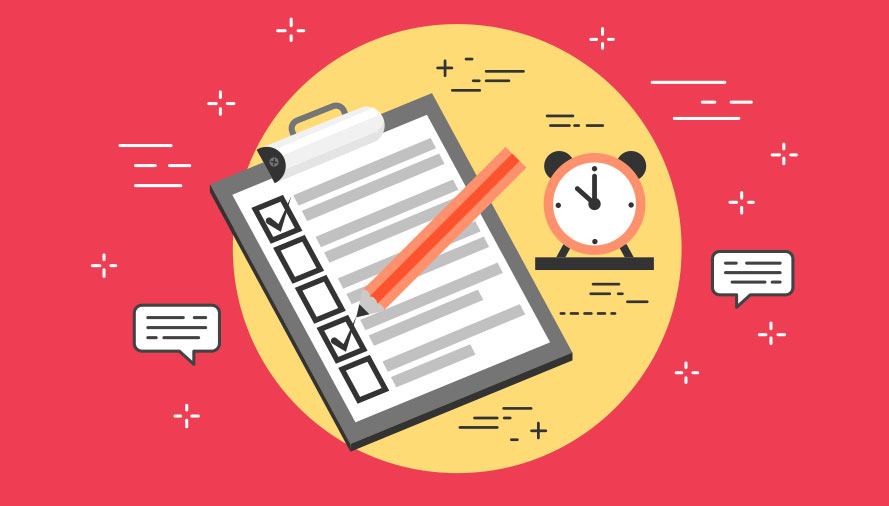 Educational content through blogging nowadays is extremely important for any business, especially those in extremely saturated markets. People nowadays do their research before they make purchases, and providing useful information helps build trust and connection with your brand.
Here are step-by-step instructions on one method for updating old blog posts:
The first step is to look at your top performing blog pages. People often judge the authority of a post on many metrics such as inbound links, traffic, social shares, keyword rankings etc.This however, can make it harder to judge which blog posts to tackle first. To keep things simple, you should start off by looking strictly at how much organic traffic is driven by your blog posts.To do this in Google Analytics go to Behavior → Site Content→ Landing pages, and restrict total traffic to Organic only.
Let's look specifically at the Video vs. Text content blog from 2014 (Landing Page #5 above). Before looking into keyword opportunities you can capture through this blog, let's look at what searches are currently causing people to land on this page. The goal here is to find keyword opportunities that you're already receiving impressions for, but might not be included much in your content.

It looks like in the screenshot above, this business is showing up for SEO related terms in connection with video content. Optimizing video for SEO is barely mentioned in this article, and is definitely a good opportunity for an additional 200 – 300 word content expansion.
The last step is to locate keywords related to video SEO that can be sprinkled into the content. Using a tool called Twinword, I came up with the following keyword suggestions.

Now it's time to write the additional content. Be sure to include the keywords you come up with in conjunction with content writing best practices.
Always remember that creating ample amounts of visibility within your content is an uphill battle. Continue to revisit older blogs with decent authority to make sure your website stays fresh and up to date.
11. Send Authority to Keywords Sitting Just Off Page 1 in Google
---
As I mentioned previously, there is a huge drop-off in traffic after the first search result in Google, followed by incremental decreases until you reach page 2, which accounts for only 3% of overall traffic.
Smart Insights provides a nice breakdown of CTR by organic search position.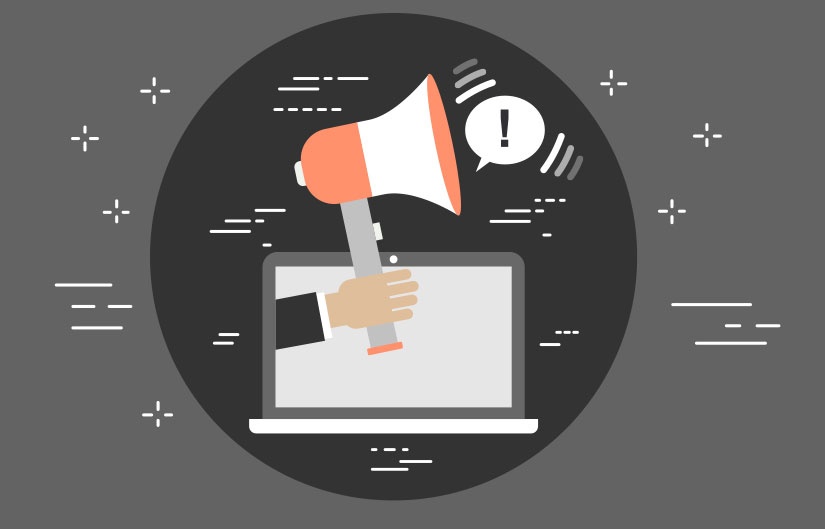 Brain Dean of Backlinko summarized this breakdown in very simple words, "if you're on page 2 of Google's search results…you might as well be on page 58."
It can be difficult to make that jump from the second page to the first page of Google because the competition is heavy. Even though breaking through to page 1 can feel like a dream, the benefits are all too real.
The first step is to use your favorite keyword tracker and locate phrases that are ranking on the top of page 2. Typically there are 10 results per page in Google, so for this situation you'll want to look at keywords in positions 11 – 12 (Let's use espn.com as an example).
Using SEM Rush you can see ESPN.com is currently ranking just off the first page for the term blackhawks.
First let's look at Content Expansion opportunities on the page in which this keyword is ranking. See the "It's Not Always About New Content" SEO technique above for instructions regarding content expansion.
Another major way to push this keyword to the first page is through interlinking. Using the same example as above, the first step would be to find ESPN's most authoritative pages.
To streamline this process you can use the tool Ahrefs and simply plug the website into the domain field.

Then click on top pages under the Organic Search Tab.
Here you'll find the highest authority pages listed first.
The last step is to link a few of these pages to the content that ranks for the keyword blackhawks. When doing this for yourself keep in mind to use proper and relevant anchor text. Make sure the links make contextual sense and do not interrupt the flow of content.
Get an in-depth report of your digital presence.
Request a FREE Growth Strategy Session with a OneIMS digital strategist:
12. Featured Snippets – Is It Possible for the Small Business?
---
When using Google to ask a question, they might display a block of text at the top of the page summarizing the answer.
This search result is called a Featured Snippet (also referred to as the Google Answer Box), which is essentially a summary taken from a webpage and includes a link, page title and URL.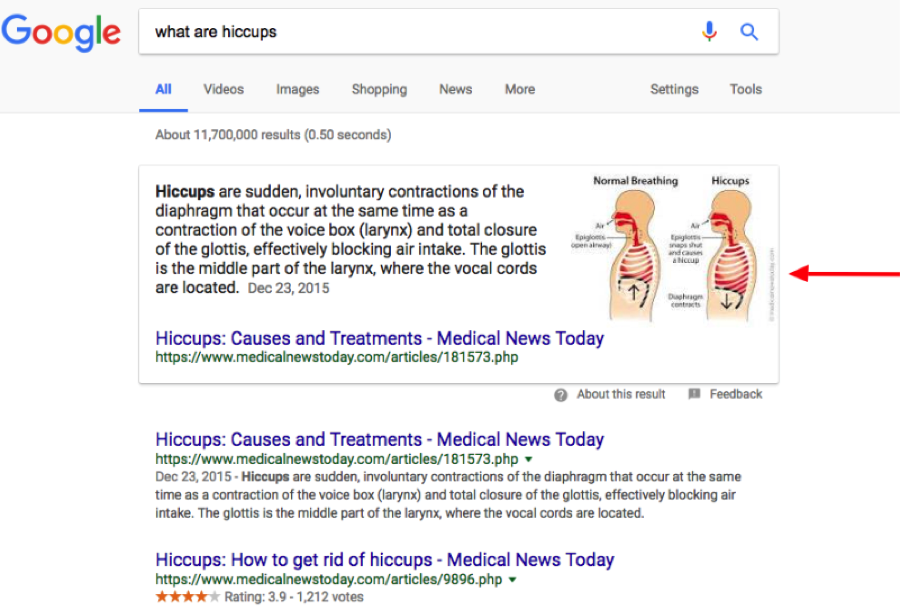 Ahrefs performed a study of 2 million featured snippets and found that they steal a significant amount of traffic from normal search results. Naturally around 26% of traffic goes to the 1st URL, but as you can see in the graphic below, the Featured Snippet takes away close to 9% of this traffic.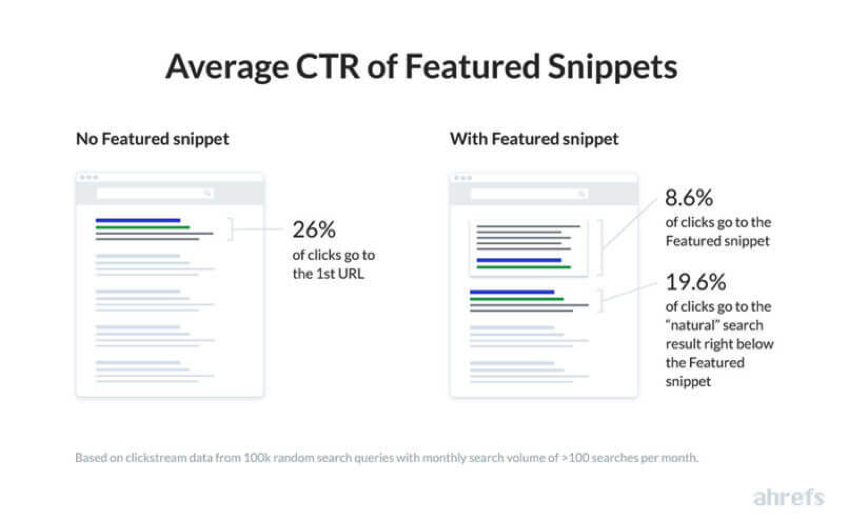 Is this Opportunity Right For You?
Featured snippets are not for everybody. For example if you're a local business, you should spend time positioning your company to display in the Maps result. Featured snippets do not show well for results that display the local pack.
On another note, businesses in industries that require research and education are great opportunities for featured snippets. You can shoot to rank for FAQ's, industry terms, or popular industry data.
How to Find Candidates For Your Keywords
A few quick things to note:
These snippets typically favor long tail queries (5 words or more)
Explicit questions will usually have featured snippets (who, what, why), but don't forget about implied questions (does, getting, doing etc..)
Terms with higher search volume produce snippets more often
Using long tail keyword tools like answerthepublic.com or the LSI keyword generator are great for finding frequently asked questions over the Internet. Using these tools you can generate lists and categorize them based on different interrogative words.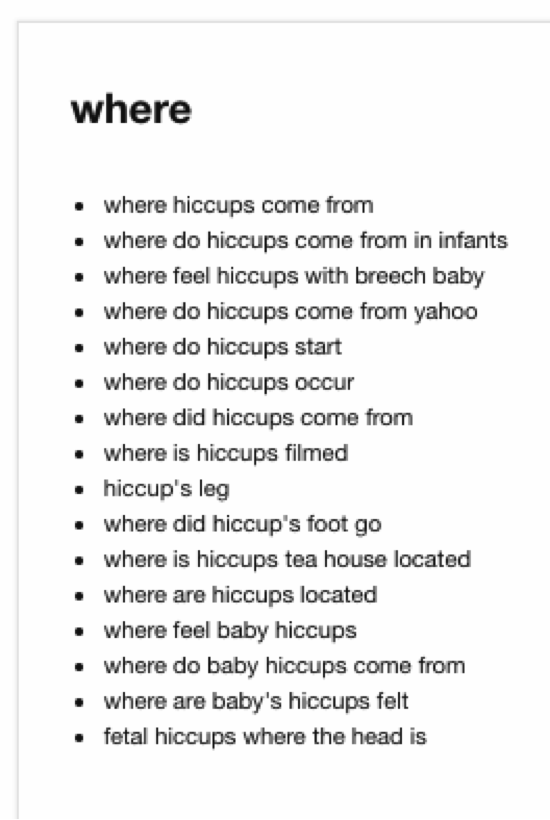 How to Get Selected for a Snippet
It is important to take some of these factors into consideration when going after a featured snippet.
Text that specifically answers the question at hand
Clean tagging, formatting, and code
Decent engagement signals
Make sure to repeat the question in your content
Directly under the question should be a clear concise answer (25 – 75 words).
After the answer, provide additional information to answer the question more fully
Make sure to add this snippet content onto one of your higher performing pages. Google wants to provide the best search results it can, so a low performing page will make the featured snippet much more difficult to obtain.
THREE BONUS TIPS
13. Text is overrated – alternate forms of media are IN
---
There's no questioning the fact that video and other media are a growing necessity for your site. 55% of people watch video online every day.
There's a never-ending amount of content out there. It can be overwhelming thinking about how you'll set yourself apart. And once you set yourself apart, how are you going to keep those users on your site?
Alternative forms of media are the answer. Video, infographics, gifs, animations, memes, live video, the list goes on. 59% of executives would rather watch a video than read text when given the option. As we stated before, visuals are processed 60,000 times faster than text so why not take advantage of that?
Video and other forms of media increase engagement, keeping a user on your page for longer. And we all know Google's a fan of that.
An optimized video on your site could increase your chance of appearing on the front page of a search by 53 times. These videos don't need to be state of the art. Grab your iPhone and get to filming. No one is expecting Steven Spielberg quality here. Have fun with it.There's plenty of types of videos that are easy to create and help to your site.
Here are a few:
Explainer videos
Customer testimonials
Employee features
How-to's
Vlogs
Don't forget about Youtube. In a Google centered world, Youtube gets overlooked. Youtube is the second largest search engine. It's time marketers start taking advantage of that.
Create videos specifically for Youtube, optimize them, and watch your views thrive.
14. Create a fluid and responsive website on ALL devices
---
If your site isn't mobile optimized, it's time to step up your game.
In 2016, Google announced it would be switching to a mobile-first indexing strategy, meaning they would start recognizing and ranking mobile sites over the desktop version. 60% of internet traffic now comes from mobile devices.
We live in a world where a breadth of knowledge is at our fingertips. It's time to optimize our sites for those fingertips.
To do this, your website needs to be responsive and fast.
It's time to shift over from M. to Responsive site design. So what's the difference between those?
M. creates a separate URL for your mobile site. It's often a simplified version of the desktop site featuring less of your content. Responsive site design has one site that responds to the screen size of the device you're using. So your site will look the same, respond the same, and feature the same content on all devices. Doesn't matter if it's a cell phone, tablet, or desktop.
Why is this so necessary?
Your users should have the same experience on all devices. They should never be denied content or images simply because they're on their iPhone. Create a User Experience that benefits the mobile user instead of punishing them.
Speed is also crucial to optimizing the mobile experience. Many factors such as a redirect, poor connectivity, and hardware issues can slow down a mobile user much more than a desktop user.
A slow mobile site means a high bounce rate. Fight this by having top-notch speed. I'm talking Looney Toons roadrunner speed.
15. Forums aren't just for chatting – try using forums for keyword research
---
Reddit, Quora, Yahoo Answers. They all can help you out with your keyword research. These forums have an endless supply of conversations.
That also means an endless supply of keywords. Scroll through a few forums on your topic and pick out the keywords that would help out your SEO.
Let's walk through an example…
Say you're an online eyeglasses vendor. You're looking for keywords to bring traffic to your homepage. Hoping to finally get to the coveted first search engine results page of Google. So you head over to Quora and search "best eyeglasses". This results in, what seems like, a never-ending queue of results.
You click on the third result, "Which are the best eyeglasses".
Scrolling through, you find a few new keywords like:
excellent lenses
lightweight lenses
trusted eyewear brand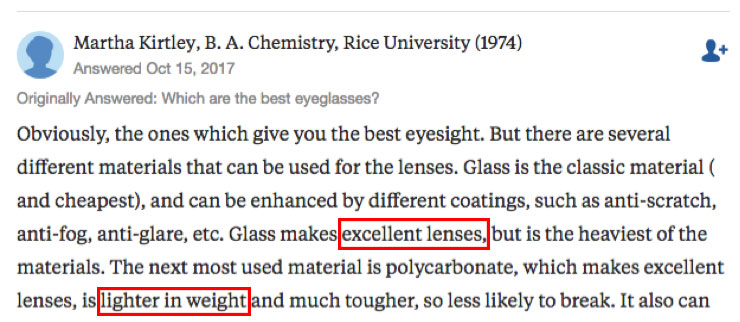 trendy eyeglasses
comfortable eyeglasses
affordable eyeglasses
The goal is for these keywords to inspire a detailed list of long-tail keywords.
You also pick up a few suggestions from the related questions column. This is often located on either the left or right side of the page.
Scrolling through forums will open your eyes to countless new opportunities for keywords.
That's all we have for you guys. So, take these 15 tips and go tackle your SEO game in 2019!
Learn how you can build a strong SEO strategy.
Get a FREE Growth Strategy Session with our experts:
Conclusion
Unfortunately not all of these opportunities are the easiest to implement, nor will they make a difference overnight. With the competitive nature of the Internet nowadays it takes more than influential storytelling and social media promotion.
It requires a cohesive SEO strategy that compliments compelling and well-written content to be found on the Internet. Actual people on the other side of their mobile or computer screen will not only need to find you, but also digest, enjoy, and share what they read.
Success in SEO requires a sound understanding of a variety of KPI's over a long period of time to truly know whether or not you are moving in the right direction. It is up to you to pick and choose which of these strategies mentioned above is right for you. If you can get to that point, you will begin to see the real value you have provided to your business in the long term.